Bees soccer is kicking off the season with a sting! Boys recently came out with a win against Normandy at home 1-0.   The Lady Bees are on the rise with a win against Stow-Monroe Falls and a new head coach, Karol Borkya. He says he is very excited to be taking on the team and loves the game.
Borkya, a BBH 2010 graduate, is coming from the White Caps Club in Valley View with years of coaching experience ready to share with the lady Bees.  He was a player all through high school, college at Notre Dame/John Carroll, and played oversees for some time on Poland's lower league team.
Upcoming games for the Bees. Lady Bees are taking on Hudson on 9/20 at home, and they are at Green on 9/25, and Solon on 9/27.  Boys soccer is at Hudson on 9/19, Olmsted Falls on 9/23, and Solon on 9/26 at home. 
Both the boys' and girls' programs are quite strong, as they hold each other accountable and adapt to different playing styles, says Sadie Lewis, junior. The Boy's team strengths are they have lots of chemistry among the players and knowledge of the game, which helps them to execute their game plan, says Bobby Johnson, junior.  
Soccer is a player's sport; everyone contributes.  Lily German, senior, says, "Soccer is not only a sport, but it creates friendship and family-like bonds within the team."   
The game is worth the watch, says Johnson.
One Lady Bee player to watch this season is Sadie Lewis #2.  She is a forward, who is lightning fast, and can get around players to create goal-scoring opportunities.  Also, Ella Beach#3, class of 2025, is a forward, whose speed leads her to score almost every game.
One underclassmen, Lady Bee, soon-to-be star is Adelyn Rahe, freshman, who plays center-back, and recently scored her first varsity goal.  Also, Allie Biglow, sophomore, and Grace Kucharski,  freshman, are both forwards showing potential as assets to the team in the future.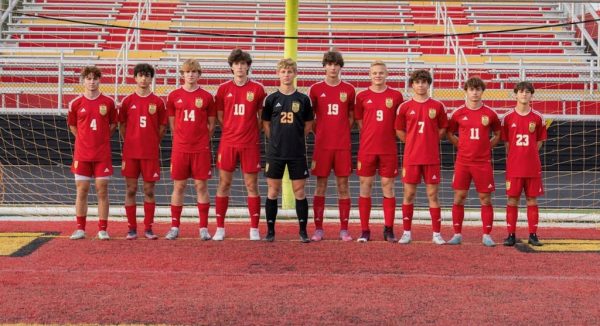 One of the boy's players to watch is Anthony Sarti #7, senior.  He is captain, and uses his technical foot work to contribute toward the team effort. Brayden Bizantz #4, senior, plays defender aggressively and wins many balls under tough circumstances. Owen Lumpkin#9, senior, is a speed demon forward, who beats people down the sideline and takes it to the goal.
Underclassmen are the soon-to-be stars.
Watch out for Rocco Dean, sophomore, who plays outside back, and contributes his skill becoming a big asset for the team. Luka Zivkovic,  sophomore, an attacking mid,  is technical and can finish the ball well. 
So if you are thinking about trying out for the Bees soccer program, do it!  It is not only a fun sport, but it is also a second family.