For the BBHHS girls tennis team, tennis is more than just striking a ball back and forth. Tennis is a way of life. These ladies work hard to be the greatest in their sport while still balancing academics and friendships. 
The Brecksville-Broadview Heights High School (BBHHS) girls tennis team consists of 21 players, including JV and Varsity, and is led by two senior varsity co-captains, Claire Martens and Nikolina Racic. Martens and Racic, with their dedication and leadership, guide the diverse group of 21 players, unifying the JV and varsity teams into a cohesive and driven tennis force.
Coach Smith, the junior varsity coach, and Coach Reynolds, the varsity coach, teach these girls valuable skills on and off the court. Their coaching not only improves the girls' tennis skills, but also instills key life lessons, resulting in well-rounded individuals on and off the court.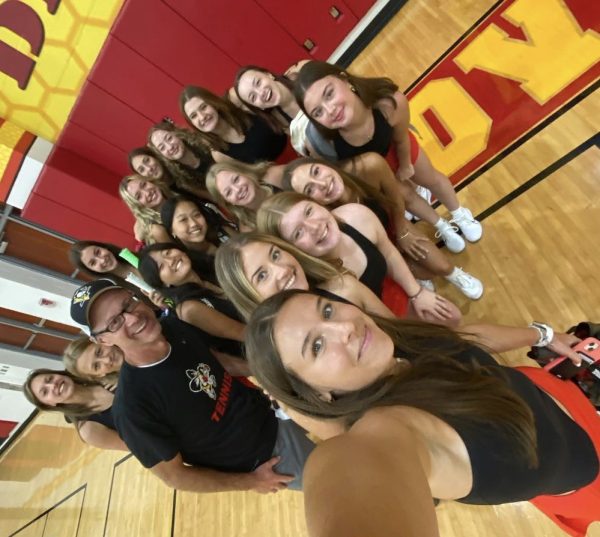 Amanda Wolf, a junior on JV doubles, is excited to be playing tennis for the high school team and believes she has developed many essential skills as a result of playing for the team. "Playing has made me realize that a big part of tennis is to breathe and strategically control your movements, and I can take this into my everyday life," said Wolf.
Coach Reynolds speaks passionately sharing his perspective, saying, "My favorite part of being a coach is getting to work with great athletes and watching them grow both as individuals and as athletes." He emphasizes how rewarding it is to witness the personal and athletic development of the athletes he mentors.
Unlike other school sports, tennis is distinct due to the individual nature of the sport. According to Coach Smith, "Tennis is a unique sport in that it is both an individual and a team sport. When playing singles, it's all about your score, but it also counts toward the team score, and whether your team wins or loses is determined by your individual score. So it's both individual and team oriented."
Some of the crucial aspects of tennis are keeping focused, maintaining a positive attitude, and supporting your teammates. This was shown by Kara Sabo, a junior on JV doubles and singles, who noted that while playing for the high school tennis team, she learned determination and the significance of community in motivation.
Another point raised by the tennis team is how they manage classwork and homework in the midst of their packed schedules. According to Jesse Hansen, a junior on Varsity doubles, "We have a lot of matches each week, so I just try to squeeze in as much homework as possible when I have the chance, like at lunch, on the bus, or when I am waiting for another match to finish up."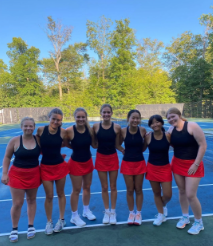 Sabo also noted this saying, "I often write down all my assignments in advance and I decide to do them on certain days when I don't have a match. Then, I won't be too overwhelmed." This strategic approach to managing her assignments reflects Sabo's commitment to balancing her academic responsibilities with her dedication to tennis, ensuring a well-rounded student- athlete experience.
Although excelling in academics is undeniably crucial, a well-rounded education extends beyond the textbooks. The team actively seeks new talent to enrich its program.While official tryouts typically commence on August first, don't hesitate to start honing your skills even before that date.
Hansen feels strongly about more student involvement in the tennis team. "Definitely do it!! It [tennis] is the most supportive sports environment I have ever been in, being intense, but not too intense, being a time commitment, but not too time-consuming, and interacting with people without getting annoyed like you might in a typical team sport. When trying out, just be yourself and have fun!" said Hansen.
Wolf felt similarly saying, "Honestly, joking around with friends is a good way to unwind and put yourself into a good mindset. My philosophy is to never take anything too seriously because nothing is that serious!"
If you are thinking about trying out for the tennis team next year, don't hesitate. "It's a great sport for anyone to learn because you can play it your whole life. It's not like football. Tennis is a game that can be played from when you're old enough to hold a racket to the end of your life." said Coach Smith.