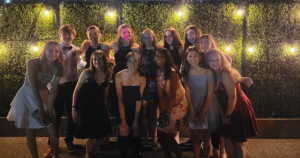 It's that time of the year; Homecoming Week is here! The theme for this year is Hollywood Nights! For some students this is their first Homecoming; for others, it's your last.
For some, they are going to Homecoming knowing what to expect.
Have you ever wondered what younger students think this annual dance is like?
Most people in elementary school don't necessarily know what Homecoming is or even what it is like, especially if they do not have older siblings. Elizabeth, a 6th-grade student in the New Brecksville- Broadview-Heights Elementary School, was asked a few questions about what she thinks Homecoming is like.
Elizabeth stated that she thinks about 820 students attended the dance. While High School students gave much lower numbers like 150 and 200. It seems as though younger kids find things like dressing up and dancing more fun than some students at the high school. The reality is about 180 students go to Homecoming according to past statistics.
Who do middle students think go to the dance together? Do people go with their boyfriend/girlfriend or just friends? Both age groups say people should go with "friends." Many middle school students think that the freshmen bring their friends, but every grade level above that probably brings their boyfriend or girlfriend.
The elementary kids are way too young to be thinking about boyfriends or girlfriends, so their answer makes sense. Once every school year students in each grade at the middle school get to have a social, kind of like a mini homecoming where there is food, music, and a theme.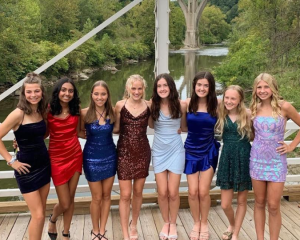 Every year, students say, "This is so lame compared to high school homecoming." Homecoming is such an exciting and anticipated event.
For my third question, I asked, " What do you think the most anticipated color dress for l homecoming is? I asked four high school students and the answer was unanimous "Blue"
The younger kids thought differently; the Middle School and Elementary School answers had a mix between "Black" and "Red."
"Which is the more popular, a short or long floor-length dress?" All three schools answered
"short". In fact, one high school student said, "Wearing a long dress is more appropriate for prom."
The middle school students guessed that a ticket costs somewhere between $5-$5.25. The Elementary kids believe it costs between $2-$4. The actual cost for a ticket to homecoming is $15 this year.
Lastly, it has been shared that the lack of food/beverages at homecoming is disappointing. With all that jumping and dancing students are sure to be hungry.
Middle schoolers are excited about going to homecoming "someday", but it just feels so far away in the future.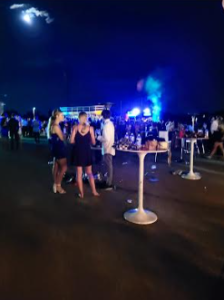 The girls also say they are not excited about the pressure of shopping for the right dress. Elementary kids say they are excited, Elizabeth explained "I don't really know what to expect and what to be excited about because I don't really understand Homecoming anyway!"
The dance is Saturday, September 23 at the High School with a theme of Hollywood Night. Get ready for a night of fun! At the end of the night, It doesn't matter who you bring, what color you're wearing, or if your dress is long or short. The expense doesn't even really matter.
What does matter is that you show up, and have fun this Homecoming night. The memories are worth it!